A while ago Amy Brown sent me a sample of her product – Baby Brain Organics – to try.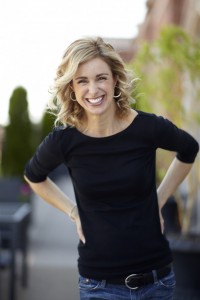 Amy is a friend of a friend – and a mom – and I had heard that she was super passionate about finding ways to get good food into kids.  So I was game to give it a try.
People tell me all the time that the biggest problem they have when it comes to getting their kids to eat heatlhy foods is that their kids are just too picky and refuse to eat the healthy stuff.
Basically what Amy has done is take all those super foods I'm always talking about like flax, chia and quinoa and ground them up into one product that is pretty much tasteless, odourless and texture-less.
In other words – unbelievably easy to hide in almost anything and feed it to your kids.
Brilliant!
I tried the Yummy Tummy which is made up of: organic sprouted flax seeds, organic quinoa, organic chia seeds, organic blueberries.
I added a tablespoon or two to my usual recipes for muffins, cookies, granola and I even sprinkled it on top of my kids' oatmeal.
They didn't even notice.
So basically I was able to get a bunch of healthy fats, great fibre and amazing antioxidants into them without them even knowing.
Love it!
Omega 3 fatty acids are important for all of us, but for kids they're absolutely vital.  This is because one of the most important functions of these amazing fats is the work they do around building and nourishing the brain.  For little, growing brains omega 3s are a fundamental building block.  Flax and chia are some of the best sources of omega 3s around and the Baby Brains products are packed with them.
I don't work for Amy, but I highly recommend her products if you're looking for an easy way to get some of these amazing super foods into your picky eaters.
You can buy her products in a few Toronto stores or online.